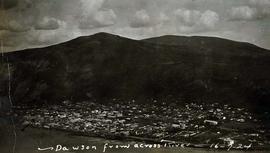 CA JMABC A.1995.003-002-3-L.22088
Item
July 16, 1924
B&W print depicts an aerial image of Dawson from across the Yukon River. On the image is written: "Dawson from across river - 16-7-24". There is an arrow drawn on the left side of the image. This image is a postcard and has writing on the back that is illegible due to the black backing. There is a 3 cent postal stamp on the right top corner of the postcard.
Note: colour adjusted on jpg.