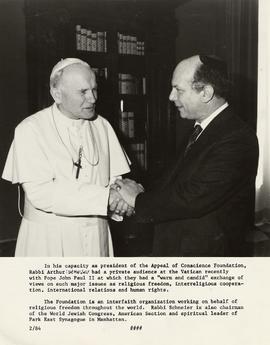 Rabbi Arthur Schneier and Pope John Paul II at the Vatican
Photograph depicts Pope John Paul II and Rabbi Arthur Schneier shaking hands.
Extensive title caption: "In his capacity as president of the Appeal of Conscience Foundation, Rabbi Arthur Schneier had a private audience at the Vatican recently with Pope John Paul II at which they had a "warm and candid" exchange of views on such major issues as religious freedom, interreligious cooperation, international relations and human rights.
The Foundation is an interfaith organization working on behalf of religious freedom throughout the world. Rabbi Schneier is also chairman of the Wolrd Jewish Congress, American Section and spiritual leader of Park East Synagogue in Manhattan. 2/84."
On verso: April 2/87. Sept. 10/87. Received: Feb 21, 1984. B & W print.