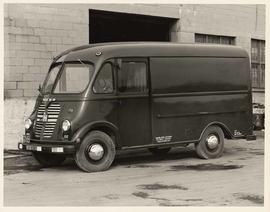 Mainland Transfer Co. Ltd., Metro van
CA JMABC A.1985.001-1-8-LF.00152
Item
March 1959
Photograph depicts Mainland Transfer Co. Metro van.
Angled side shot of blunt nosed van; printing on side of van reads "MAINLAND LEASING 34 WEST PENDER VANCOUVER, B.C."; licence plate reads C25-656; various plates on bumper of van; concrete brick building behind van; garage door of building appears to be open.
Photograph was associated with the terms "Transco. Ltd." and "White and Taylor Ltd.".