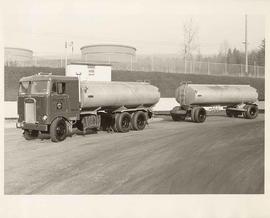 Mainland Transfer Co. Ltd., Ektacolor, tank truck trailer unit at Shellbourne
Photograph depicts a Shell Oil Co. gasoline truck.
Blunt nosed truck with two gasoline tanks on curved road; sign on truck reads "SHELL OIL COMPANY OF CANADA LTD."; grass embankment and chain-link fence behind truck; reservoir structures in background.
Photograph was associated with the terms "Transco. Ltd." and "White and Taylor Ltd.".