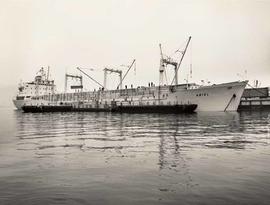 SS "Ariel" with record load -10,000,000 board feet
CA JMABC A.1985.001-1-28-LF.00565
Item
December 12, 1961
Photograph depicts "Ariel" with record load 10,000,000 board feet.
Long freighter ship loaded with wood, name "ARIEL" visible on hull; men standing on top of wood cargo; two small barges in front of ship; rail cars parked on dock behind ship.
This photograph is associated with Empire Stevedoring Co. Ltd.