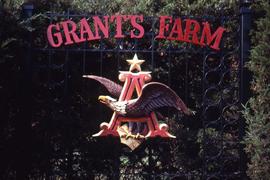 CA JMABC A.1995.003-001-33-L.18735
Item
[1980]
Colour Kodachrome 35mm slide depicts the sign for Grant's Farm.
Grant's Farm is a historic farm and long-standing landmark in St. Louis, Missouri. The property was at one time owned by Ulysses S. Grant and prior to that, by the Dent family. It is now owned by the Busch family, who owned the Anheuser-Busch Brewing Company for many years until it was sold to InBev in 2008. Grant's Farm has been an animal reserve for many years and open to the public for free. It is home to such animals as buffalo, elephants, camels, donkeys, goats, peacocks, the iconic Budweiser Clydesdales and many more.