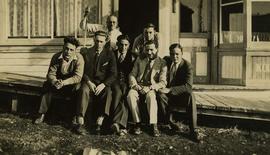 CA JMABC A.1995.003-002-4-L.21728
Unidad documental simple
[ca. 1930]
B&W print depicts seven men posing for the camera while sitting on a porch. Dr. Irving Snider is sitting front second from the right. On the back side of the image the names of the men in the image are listed in order as well as the location a...