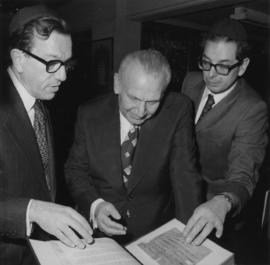 Photograph depicts three men studying a manuscript.
Original article in the Jewish Western Bulletin September 16, 1976: Chancellor Gerson D. Cohen of the Jewish Theological Seminary of America (left), President Ephraim Katzir of Israel (centre), and D. Menahem Schmelzer, Seminary librarian, study a manuscript during President Katzir's visit to the Seminary and its library.
Written on the verso: "P. 8 - 2 x 4. Sep 16 1976. Jewish Theological Seminary. Chancellor Gerson Cohen. 110."