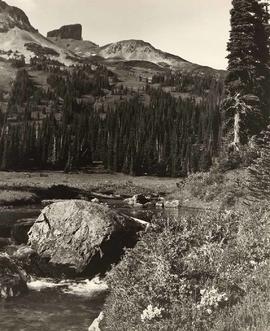 'Black Tusk' Garibaldi Park, B.C.
CA JMABC A.1985.001-1-73-LF.01292
Item
[1955]
Photograph depicts "Black Tusk", a volcanic pinnacle on a mountain, in Garibaldi Park. The volcano is a part of the Garibaldi Volcanic Belt.
Rock and foliage extending into small area of lake; forested area in background, culminated in dark, blunt, plateaued peak in top left of image.