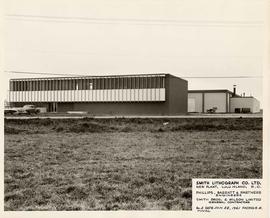 Exterior of Smith Lithograph's New Plant
CA JMABC A.1985.001-1-25-LF.00466
Item
January 28, 1961
Photograph depicts the completed construction of the new plant of Smith Lithograph Co. Ltd. on Lulu Island.
Exterior shot of two story concrete building in industrial area; address sign to right of building reads "1250"; two cars parked in front of building; grass field in foreground.
Title box in bottom right corner reads "SMITH LITHOGRAPH CO. LTD. NEW PLAN, LULU ISLAND, B.C.", "PHILLIPS, BARRATT & PARTNERS ENGINEERS", "SMITH BROS. & WILSON LIMITED GENERAL CONTRACTORS", "No. 2 DATE JAN. 28, 1961 FACING S.E. FINAL"