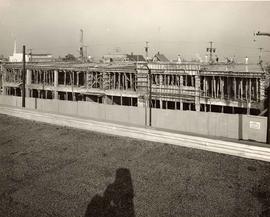 Salvation Army Men's Social Centre, no. 2, facing north, Vancouver
Photograph depicts the Salvation Army Men's Social Service Centre at 261 E 12th Avenue.
Angled view of north side of two storey concrete building; external walls have yet to be poured; construction workers on roof of building; concrete funnel tower in back left corner of building site; top stories of the Lee Building at Main and Broadway visible in background.
This photograph is associated with Mercer & Mercer, Architects and Mainland Construction Co. Ltd., General Contractors.