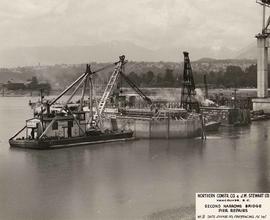 Second Narrows Bridge failed pier repairs, facing northwest, no. 2
CA JMABC A.1985.001-1-17-LF.01017
Stuk
June 10, 1959
Photograph depicts construction progress on repairs to the Second Narrows Bridge (later renamed Ironworkers Memorial Second Narrows Crossing).
Concrete pier behind barge with crane in middle of image; crane behind pier; wood framing on pier for preparation of pouring concrete; existing pier with pillars in far right of image; North Shore mountains in background.
Title box in lower right corner reads: "NORTHERN CONTR. CO. & J.W. STEWART LTD. VANCOUVER, B.C.", "SECOND NARROWS BRIDGE PIER REPAIRS", "No ", "DATE JUNE 10, 1959", "FACING N.W.".