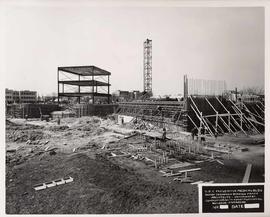 University of British Columbia Preventive Medical Building
Photographs depict the construction progress of the Preventive Medical Building (the Wesbrook Building) at the University of British Columbia. Second image does not have label in bottom right corner.
Large, square, steel, three level platform; wooden and concrete foundation built around platform;, crane tower behind structure; six construction workers visible in foreground; existing buildings visible in background.
Black and white label in bottom right corner of image reads "U.B.C. PREVENTIVE MEDICAL BLDG. SHARP THOMPSON BERWICK PRATT ARCHITECTS - VANCOUVER B.C. COMMONWEALTH CONSTRUCTION CO. BUILDERS - ENGINEERS NR DATE "