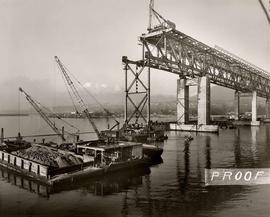 No. 37 - Second Narrows Bridge, course of construction
Photograph depicts the course of construction on the Second Narrows Bridge (now the Iron Workers' Memorial Second Narrows Bridge).
North span of incomplete bridge in middle of image; crane at end of bridge span supported by temporary pier; three visible concrete piers; small barge loaded with sand next to barge with site trailer and two cranes in foreground of image; labelled "PROOF" in bottom right corner.
This photograph is associated with Dominion Bridge Co. Ltd., contract # S.3703E.