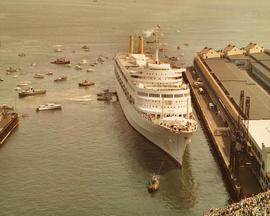 A flotilla of boats and spectators welcome the SS "Canberra"
CA JMABC A.1985.001-1-28-LF.00794
Item
July 17, 1961
Photograph depicts the arrival of "Canberra" at the Port of Vancouver. "Canberra" was a P&O-Orient ocean liner. It is shown here at Vancouver Harbour during her maiden voyage around the world. This was the largest ship to have ever entered Vancouver Harbour at the time.
Large white ocean liner being towed into dock by tugboats; smaller craft crowded around ship; pier on right side of ship; large crowd gathered in bottom right corner of image.