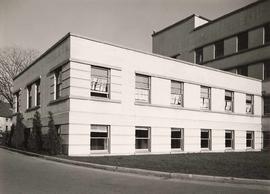 Addition to Administrative Wing, Shaughnessy Hospital, Vancouver, B.C.
CA JMABC A.1985.001-1-29-LF.00859
Item
July 4, 1958
Photograph depicts the addition to the Shaughnessy Hospital's Administrative Wing.
Two storey flat roofed building; curtains hanging in windows on top floor, Venetian blinds in windows on bottom floors; cedar shrubs along left side of building; four storey building to right.
This photograph is associated with E.H. Shockley & Son Construction Co.