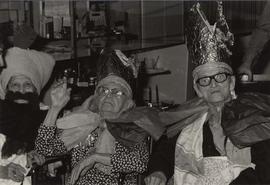 John Weinfield and Rose Kaplan at Purim festivities
Photograph depicts (l-r) an unidentified person next to Rose Kaplan and John Weinfield in costume as the King and Queen at the Purim festival.
Written on the verso: "3/18 March/84. John Weinfield, Rose Kaplan. Brier Home Purim fete. April 5/84."
Caption from JWB : "Perennial King and Queen at Purim Parties were late John Weinfield who passed away shortly before his 107th birthday, and Rose Kaplan, still getting along at age 102. Two more appropriate Royalty could not be found anywhere - both being completely dedicated to their religion, the gentleman often praying alone in the synagogue even when there was no minyan, and the lady alone in her room."