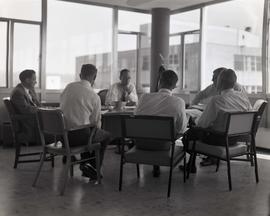 BC Forest Products - rehabilitation
Black and white photograph depicts men sitting around a table at a BC Forest Products sawmill office.
On July 3, 1960 Vancouver firefighters battled the most destructive blaze since the city burned to the ground in 1886. The five-alarm fire occurred when fire destroyed the B.C. Forest Products plant and lumber storage facility on the south shore of False Creek at 999 West 6th Ave. The fire covered an area equal in size to four city blocks and took many hours to put out, causing $3.5 million in damage. A force of 350 men - more than half the city's firefighting force - was deployed, preventing the fire from causing even more damage. Whipped by winds of up to 60 kilometres per hour, the fire sent 10 firefighters and three civilians to hospital, while 45 others were treated at the scene. It destroyed warehouses, dry kilns, a planing mill, the head office of B.C. Forest Products, and 200 million board feet of lumber.
Link to a video of the fire: https://www.youtube.com/watch?v=TOm-GwccA