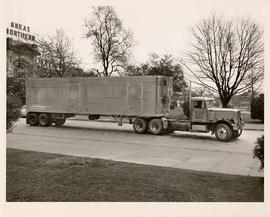 Fred Loucks Trucking Service, truck trailer unit
CA JMABC A.1985.001-1-5-LF.00135
Item
[1960]
Photograph depicts a semi truck from the fleet of Fred Loucks Trucking Service in Thornton Park in front of the Pacific Central Great Northern Railway Station.
Large truck with trailer attached to bed parked on street; bare trees in background; stone building in far left of image; sign reads "GREAT NORTHERN."
Photograph was associated with the terms "Transco. Ltd." and "White and Taylor Ltd.".