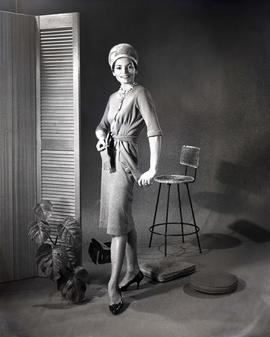 Black and white portrait of Mrs. Blanche Macdonald (née Brillon).
Blanche Macdonald (née Brillon) (11 May 1931 - 8 June 1985) was a Canadian Métis born in Faust, Alberta of French and First Nations heritage. She launched her career as the winner of Miss English Bay in 1949 before becoming involved in the support of the rights and culture of Aboriginal peoples as well as numerous women's organizations. Blanche was a model, entrepreneur and native rights activist. In 1957 Blanche married John Dickson Macdonald and they had two children: daughter Alexis Seto (née Macdonald) and son Allan Macdonald.
Blanche developed the Blanche Macdonald Institute, a modeling agency and school of fashion in Vancouver, BC. Her career and self-development programs were founded on the philosophy of encouraging people to aspire to their highest potential through personal development. After her death in 1985, the institute was purchased by Lillian Lim who further developed the school and eventually renamed the institute the Blanche Macdonald Centre in the late 90's. Today, Blanche Macdonald Centre is a private college that provide careers in fashion, hairstyling, aesthetics/spa and nail. The college has two campuses, the original campus is located in City Square Mall and the other on Robson Street both in the city of Vancouver.