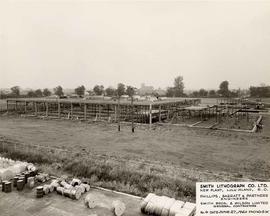 No. 4 - Smith Lithograph Co. Ltd., New Plant, Lulu Island, B.C., S.W.
CA JMABC A.1985.001-1-25-LF.00478
Item
June 27, 1960
Photograph depicts the construction of the new plant of Smith Lithograph Co. Ltd. on Lulu Island. Lulu Island is the geographic name of the island making up most of the City of Richmond. It was named in 1862, after Lulu Sweet, a popular showgirl, possibly of Hawaiian origin, who was dating the mayor of New Westminster when the island was named.
Exterior shot of skeletal frame of two story building with one story extension; metal scaffolding around outside of frame; stacks of wood and two construction workers on top of building.
Title box in bottom right corner reads "SMITH LITHOGRAPH CO. LTD. NEW PLAN, LULU ISLAND, B.C.", "PHILLIPS, BARRATT & PARTNERS ENGINEERS", "SMITH BROS. & WILSON LIMITED GENERAL CONTRACTORS", "No. 4 DATE JUNE 27, 1960 FACING S.W."