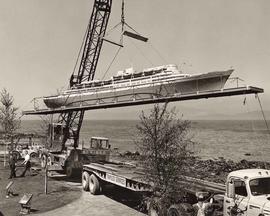 Transco Sevices Ltd. truck hoisting a model of a ship
CA JMABC A.1985.001-1-7-LF.00570
Unidad documental simple
May 16, 1961
Photograph depicts Transco Services' truck trailer with ship's model.
Ship model on platform attached to crane secured to ground with rope; "ROTTERDAM" painted on top of ship; truck labelled "TRANSCO SERVICES", crane vehicle, and forklift in foreground of image; two men to left of crane vehicle; rocky shoreline and ocean in background.
Photograph was associated with the term "White and Taylor Ltd.".