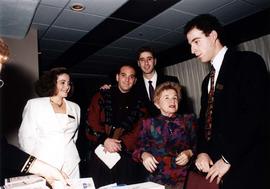 Dr. Ruth frank about Torah and sexuality [- Dr. Ruth book signing]
Photograph depicts a group of unidentified people with Dr. Ruth second from the right.
Original article in the Jewish Western Bulletin December 19, 1991: Dr. Ruth Westheimer, Dr. Ruth as she is known, was in Vancouver recently as the guest speaker for the Young Associates of the Hebrew University of Jerusalem.... Following the presentation the crowd enjoyed refreshments and the opportunity to purchase an autographed copy of the doctor's latest book.