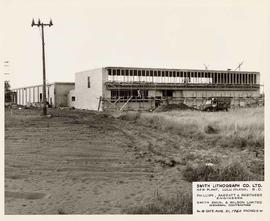 Smith Lithograph Co. Ltd. - Construction of new plant
CA JMABC A.1985.001-1-25-LF.00472
Item
August 31, 1960
Photograph depicts the construction of the new plant of Smith Lithograph Co. Ltd. on Lulu Island.
Exterior shot of two story concrete building under construction; row of narrow wood window frames along top of building; delivery truck parked in front of building; four construction workers visible near front of building; telephone pole in left of image.
Title box in bottom right corner reads "SMITH LITHOGRAPH CO. LTD. NEW PLAN, LULU ISLAND, B.C.", "PHILLIPS, BARRATT & PARTNERS ENGINEERS", "SMITH BROS. & WILSON LIMITED GENERAL CONTRACTORS", "No. 10 DATE AUG. 31, 1960 FACING S.W."