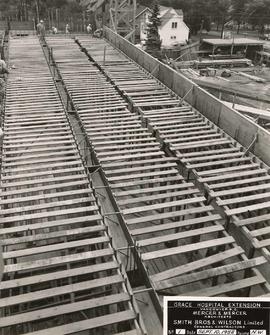 Set #1, No. 1- Grace Hospital extension, course of construction
CA JMABC A.1985.001-1-68-LF.02017
Stuk
September 10, 1958
Photograph depicts the course of construction of an extension to Grace Hospital at 4500 Oak Street (now BC Women's Hospital and Health Centre).
Photograph shows construction workers on top of long, narrow, wood framed concrete structure; construction supply site to right of building with white house behind.
Title box in lower right corner reads: "GRACE HOSPITAL EXTENSION VANCOUVER B.C.", "MERCER & MERCER ARCHITECTS", "SMITH BROS & WILSON Limited GENERAL CONTRACTORS", "No 1", "Date SEPT. 10, 1958", "Facing N.W.".