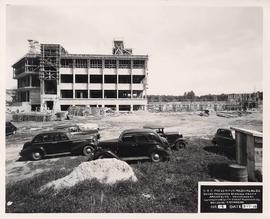 University of British Columbia Preventive Medical Building, no. 18
CA JMABC A.1985.001-1-1-LF.00009
Stuk
August 17, 1950
Photograph depicts the construction progress of the Preventive Medical Building (the Wesbrook Building) at the University of British Columbia.
Three story concrete building; foundation/basement level partially visible; extensive scaffolding and framing around top portion of building; palettes, crates, and supplies stacked in front of building; six vehicles parked in foreground of image; oil drum and small wooden structure to right of vehicles.
Black and white label in bottom right corner of image reads "U.B.C. PREVENTIVE MEDICAL BLDG. SHARP THOMPSON BERWICK PRATT ARCHITECTS - VANCOUVER B.C. COMMONWEALTH CONSTRUCTION CO. BUILDERS - ENGINEERS NR DATE "