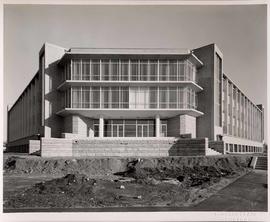 University of British Columbia Preventive Medical Building
CA JMABC A.1985.001-1-1-LF.00002
Stuk
[1952]
Photograph depicts the construction progress of the Preventive Medical Building (the Wesbrook Building) at the University of British Columbia.
Front shot of three story building; facade is almost entirely windows; stonework frames side steps leading up the building's entrance; leveled dirt , presumably ready for landscaping in front of stonework; sidewalk visible in very foreground of image; both sides of building are clearly visible on left and right sides of image.
"LEONARD FRANK PHOTOS" embossed in bottom right corner.
Construction started on the Preventive Medical Building (Wesbrook Building) at UBC in 1949 and ended in 1951. However, Landauer did not move Leonard Frank Studios to 641 Pender St (which this image is stamped with) until 1952. This image has therefore been tentatively dated at 1952.