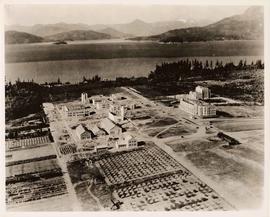 Aerial view of University of British Columbia campus
CA JMABC A.1985.001-1-1-LF.00072
Item
[1925]
Photograph depicts an aerial image of the Point Grey campus of the University of British Columbia in Vancouver, British Columbia.
Agricultural fields in foreground; library and other buildings in middle of image; ocean in background.
Back of photograph is stamped with W Pender location studio stamp. Otto Landauer moved the studio to W Pender in 1952. However, this image was likely reprinted sometime after Landauer moved the studio, but taken much earlier.