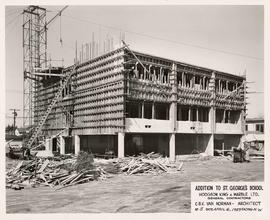 Addition to St. George's School - facing northwest
CA JMABC A.1985.001-1-21-LF.00420
Item
April 6, 1959
Photograph depicts the construction of the addition to St. George's School.
Three story concrete building under construction; extensive wooden scaffolding on sides of building; metal crane tower and ladder near left side of building; two men standing at base of ladder; wood and wire mesh debris around perimeter of building.
White title box in bottom right corner of the duplicate print reads "ADDITION TO ST. GEORGE'S SCHOOL", "HODGSON KING & MARBLE LTD. GENERAL CONTRACTORS", "C.B.K. VAN NORMAN - ARCHITECT", "No.5", "DATE APRIL 6, 1959", "FACING N.W."