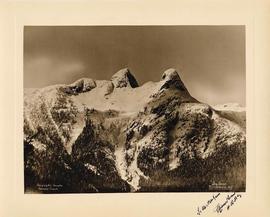 The Lions, North Vancouver, BC
CA JMABC A.1985.001-1-36-LF.01196
Item
[1925]
Photograph depicts the Lions, one signed by Leonard Frank.
Black and white images of two mountain peaks covered in snow.
Printed on recto: "Copyright, Canada Leonard Frank" in bottom left corner, and "'The Lions' Vancouver, B.C." in bottom right corner.
Handwritten on recto: "To Mr & Mrs [Xasen] Leonard Frank A.R.P.S."