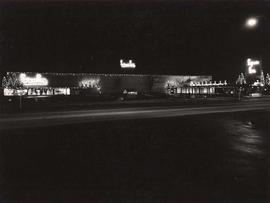 Simpsons-Sears Ltd., Burnaby, decorated for the Christmas season
CA JMABC A.1985.001-1-27-LF.00487
Item
December 26, 1954
Photograph depicts the Simpsons-Sears Ltd. store in Burnaby, decorated for Christmas.
Dark street in foreground of image; long, low-lying building decorated with strings of lights, trees, and reindeer figurines; neon signs read "Simpsons-Sears."
This photograph is associated with Gardiner & Thornton-Sharp, architects; Thompson, Berwick, Pratt, architects; and Commonwealth Construction Co. Ltd., general contractors.