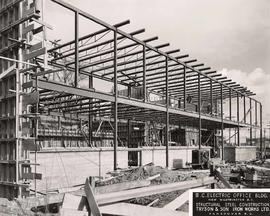 B.C. Electric Office Building, New Westminster, B.C.
CA JMABC A.1985.001-1-62-LF.01806
Stuk
[1954]
Photograph depicts the B.C. Electric Office building in New Westminster.
Two storey metal and concrete frame of building; wood framing on left side of building, to enable setting of concrete; scattered lumber in foreground of image.
Title box in lower right corner reads: "B.C. ELECTRIC OFFICE BLDG. NEW WESTMINSTER B.C.", "STRUCTURAL STEEL CONSTRUCTION TRYSON & SON IRON WORKS LTD. VANCOUVER B.C.".