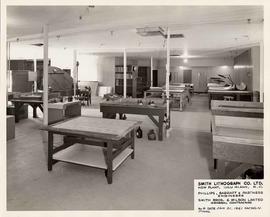 Work room, Smith Lithograph Co. Ltd.'s New Plant
CA JMABC A.1985.001-1-25-LF.00464
Stuk
January 21, 1961
Photograph depicts the completed construction of the new plant of Smith Lithograph Co. Ltd. on Lulu Island.
Interior shot of work room; rows of work tables with basin tops and flat tops; slotted shelves in rear of room; suspended ceiling with sprinkler system.
Title box in bottom right corner reads "SMITH LITHOGRAPH CO. LTD. NEW PLAN, LULU ISLAND, B.C.", "PHILLIPS, BARRATT & PARTNERS ENGINEERS", "SMITH BROS. & WILSON LIMITED GENERAL CONTRACTORS", "No. 4 DATE JAN. 21, 1961 FACING N. FINAL"