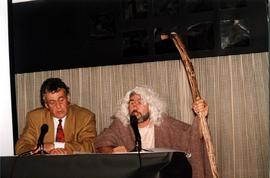 Photograph depicts two men behind microphones, with one man in costume, they are possibly performing a skit.
The caption from the JWB reads: "Edward R. Burrow" (Mel Sprackman) with "world's oldest canvasser Meyer Burscovitch" (Jeff Goldberg).
Separate paper provides short description. Reads: "'JUISH T.V.' Jewish Federation of Greater Vancouver Richmond Country Club. Sept. 12/91 For Sept. 26/91 see layout."