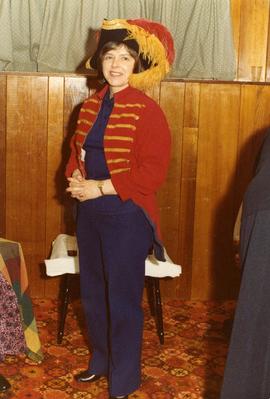 CA JMABC A.2011.035-003-23-L.17647
Unidad documental simple
1977
Photograph depicts a woman dressed in costume.
Original description reads, "Purim 1977 - A "Purim Weekend" occur[r]ed for Burquest the weekend of March 5-6, 1977. On Saturday March 5, an adult Purim masquerade was held at the home of Harold and Natalie Freeman. As usual, everyone had a great evening - good food, good fun, and great company. On Sunday March 6, the children and families of students attending the Burquest Hebrew School held a Purim carnival at the Centennial Lodge in Queen's Park, N.W. - the school's regular location."