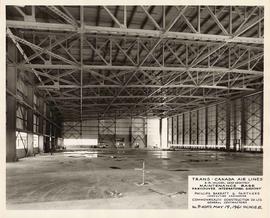 Trans-Canada Air Lines Maintenance Base, course of construction, Vancouver International Airport, no. 10A
CA JMABC A.1985.001-1-12-LF.00264
Unidad documental simple
May 19, 1961
Photograph depicts progress on the Trans-Canada Air Lines project.
Interior shot of airplane hangar; concrete floors; steel beam and corrugated steel walls and ceiling; truck parked in very rear of building; water puddles on floor; vertical garage type doors on left side of building.
Title box in lower right corner reads "TRANS-CANADA AIR LINES E.W. SELLORS, CHIEF ARCHITECT", "MAINTENANCE BASE VANCOUVER INTERNATIONAL AIRPORT", "PHILLIPS BARRATT & PARTNERS CONSULTING ENGINEERS", "COMMONWEALTH CONSTRUCTION CO. LTD. GENERAL CONTRACTORS", "No.10-A", "DATE June 22, 1961", "FACING N.W."