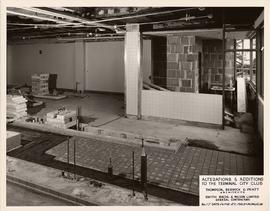 Alterations & additions to the Terminal City Club, southwest, no. 18
CA JMABC A.1985.001-1-11-LF.00230
Item
June 29, 1963
Photograph depicts alterations and additions to the Terminal City Club. The Terminal City Club began in 1892 when the mayor and several prominent businessmen founded a businessmen's club. The name is derived from Vancouver being the terminus of the Canadian Pacific Railway. The club is currently located at 837 West Hastings Street, Vancouver, British Columbia.
Interior shot of room with white, square tile walls; sheets of tile and Allan block on floor; corner window in right side of image.
Title box in bottom right corner of image reads "ALTERATIONS & ADDITIONS TO THE TERMINAL CITY CLUB", "THOMPSON, BERWICK & PRATT ARCHITECTS", "SMITH BROS. & WILSON LIMITED GENERAL CONTRACTORS", "No. 17", "DATE JUNE 29, 1963", "FACING S.W."