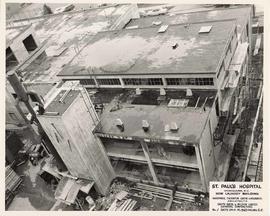 Construction of the new laundry building, St. Paul's Hospital
CA JMABC A.1985.001-1-20-LF.00411
Item
January 10, 1962
Photograph depicts the new Laundry Building at St. Paul's Hospital.
Aerial view of two story concrete structure under construction; scrap heaps and metal pipes around perimeter of building; pile of Allan blocks on second floor of structure; one construction worker on roof, one on ground; extensive metal scaffolding on right end of building.
Title box in bottom right corner reads "ST. PAUL'S HOSPITAL", "VANCOUVER, B.C." NEW LAUNDRY BUILDING", "GARDINER, THORNTON, GATHE & ASSOCIATES ARCHITECTS", "SMITH BROS. & WILSON LIMITED GENERAL CONTRACTORS", "NO. 1", "DATE JAN. 10, 1962", "FACING S.E."