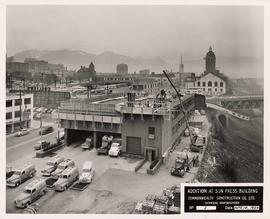 Addition to the Sun Press Building, course of construction, Vancouver, British Columbia
CA JMABC A.1985.001-1-15-LF.00301
Item
April 14, 1954
Photograph depicts the addition to the Sun Press Building, built by Commonwealth Construction Co. Ltd., general contractors.
High angle shot of initial stages of construction on top two story concrete building; four men standing in front of crane parked at rear of building; two delivery trucks and one smaller truck parked in open garage at side of building in front of image; six smaller trucks parked in parking lot; The Sun Tower visible in background.
White title box in bottom right corner reads "ADDITION AT SUN PRESS BUILDING", "COMMONWEALTH CONSTRUCTION Co. Ltd. GENERAL CONTRACTORS", "No.1", "Date April 14, 1954"