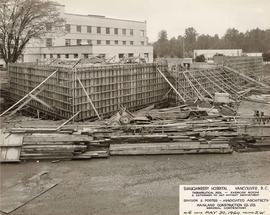 No. 6, Facing S.W. - Course of construction, Therapeutical Pool, Exercise Room, Shaughnessy Hospital
CA JMABC A.1985.001-1-29-LF.00891
Stuk
May 30, 1960
Photograph depicts construction on the Shaughnessy Hospital, now University Hospital at the University of British Columbia.
One storey concrete structure with extensive wood framing for setting of concrete; lumber and construction equipment around perimeter of building; existing three or four storey structure in background.
Title card in lower right corner reads: "SHAUGHNESSY HOSPITAL, VANCOUVER, B.C. THERAPEUTICAL POOL - EXERCISE ROOM & EXTENSION TO OUT PATIENT DEPARTMENT", "DAVISON & PORTER - ASSOCIATED ARCHITECTS", "MAINLAND CONSTRUCTION CO. LTD. GENERAL CONTRACTORS", "No. 6", "DATE MAY 30, 1960", "FACING S.W.".