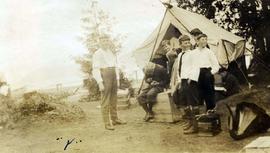 CA JMABC A.1995.003-002-3-L.21982
Item
[ca. 1915]
B&W print depicts unknown campers looking to the right of the image and an unknown man in the centre of the image posing for the camera. There is a tent in the background. "Y" is written at the bottom of the image.
Note: colour adjusted on jpg.