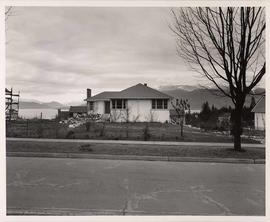 Residence neighbourhood, survey photos at University of British Columbia for Marwell Constr. Co.
CA JMABC A.1985.001-1-1-LF.00029
Item
[1952]
Photograph depicts an established residential neighbourhood.
Front shot of bungalow style house; side entrance with stone retaining wall; barren grassy yard with stone path cutting through diagonally; sidewalk and bare tree in front of house; cracked street in foreground of image; ocean and mountain view in background.
Photographer's stamp on back of photograph indicates new address at W. Pender - Landauer moved the Leonard Frank studio to W. Pender in 1952.