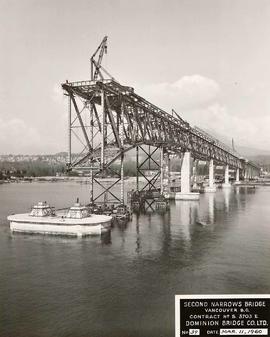 Northside steel close to the same position it was at before the collapse, Second Narrows Bridge, Vancouver, British Columbia
CA JMABC A.1985.001-1-17-LF.01038
Stuk
March 11, 1960
Photograph depicts the course of construction on the Second Narrows Bridge (now the Iron Workers' Memorial Second Narrows Bridge).
North span of incomplete bridge in middle of image; three cranes positioned at intervals along span of bridge; men in hard hats along bottom girders of framework; five visible concrete piers, one not yet attached to bridge span and two temporary support piers; wood wharf to left of bridge, running half length of bridge span; small vessel in water to right of bridge.
Title box in lower right corner reads: "SECOND NARROWS BRIDGE VANCOUVER B.C.", "CONTRACT No S. 3703 E DOMINION BRIDGE CO. LTD.", "No 39", "DATE MAR. 11, 1960".