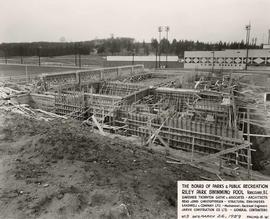 No. 3, Facing S.W. - Riley Park Swimming Pool
CA JMABC A.1985.001-1-60-LF.01750
Stuk
March 26, 1959
Photograph depicts the Riley Park Swimming Pool.
Large concrete foundation level of building in centre of image, framed extensively with wood for pouring and setting of concrete; grass field and existing concrete building with diamond pattern on walls in background.
Title card in lower right corner reads: "THE BOARD OF PARKS & PUBLIC RECREATION", "RILEY PARK SWIMMING POOL VANCOUVER , B.C.", "GARDINER THORNTON GATHE & ASSOCIATES - ARCHITECTS", "READ JONES CHRISTOFFERSEN - STRUCTURAL ENGINEERS", "SANDWELL & COMPANY LTD. - Mechanical & Electrical Engineers", "JARVIS CONSTRUCTION CO. LTD. - GENERAL CONTRACTORS", "No 3", "DATE MARCH 26, 1959", "FACING S.W.".