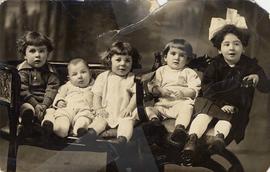 Photograph on postcard stock showing five children from the Nemetz, Karasov, and Mallin families
Photograph is of five related cousins coming from four families. The children are: brothers Harry Karasov (1920-2002) and Elliott Karasov (1922-2014), Marian Mallin (b. c.1921-?), Phyliss Nemetz (1921-1999), Frances Karasov (1919-2014).
Harry and Elliott were the children of Jack and Fannie Karasov.
Marian Mallin was the daughter of Ben Mallin and Rosa Karasov Mallin.
Phyliss Nemetz was the daughter of Harry Nemetz and Ann Karasov Nemetz.
Frances Karasov was the daughter of Nathaniel and Bessie Karasov.
Elliott Karasov was born in August 1922, this photo probably dates from 1923. At that point, all these families lived in Canada, Jack and Nat Karasov's families lived in Watrous, Saskatchewan.