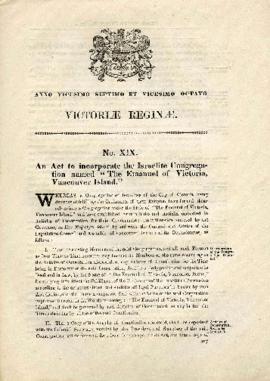 Act to Incorporate the Israelite Congregation named "The Emanuel of Victoria, Vancouver Island"
CA JMABC A.2012.017, A.2013.018-001-6
File
1864
Passed the Legislative Assembly 2d June, 1864, R. W. Torrens, Clerk of the Legislative Assembly. Passed the Legislative Council 16th June, 1864, E. J. Nesbitt, Clerk of the Legislative Council. Received my Assent this 7th day of July, 1864, A. E. Kennedy, Governor. Victoria, Vancouver Island: printed by authority of the government by Harries and Company, 1864.
Folio, 29.3 cm, pp. [3] on single folded sheet of cream paper. Near fine. Original folio printings, never bound, of the draft and final act legally establishing the first Jewish Congregation in western Canada, the oldest surviving synagogue in Canada, housed in what is now the oldest surviving synagogue building on the West Coast of North America. The synagogue was founded in 1859 and the present synagogue building was built in 1863. Unrecorded original printed acts, the Harries imprint very rare indeed.