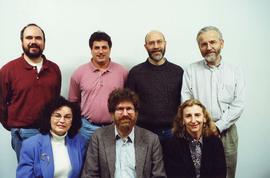 CA JMABC A.2011.035-003-19-L.17540
Item
1999
Photograph depicts new Burquest board members.
Caption from Jewish Western Bulletin issue December 31, 1999 reads: "The Burquest Jewish community has elected a new board of directors. The members are: (back row, l-r) David Freedman, community relations; Mitch Bloomfield, school; Mark Winston, past president, ways and means; Glenn Bullard, newsletter. Front row (l-r) are: Reesa Devlin, events; Dov Lank, president, membership; Shelley Rivkin, adult education. Absent are: Dan Robinson, building; Selina Robinson, ritual; Joe Roubini, public relations; Nelson Tkatch, secretary."