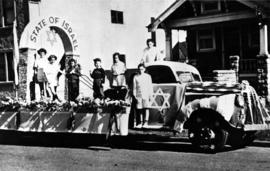 State of Israel Float Wins Prize
Photograph depicts children on the back of float decorated to celebrate the establishment of Israel.
On float, L-R: Nessi Raels, Pearl Raels, Lila Israel, Stephen Bricker, Lorilee Mallek, Cyril Boas, Alan Carr. "The Jewish community of Victoria entered a float in the city's annual Victoria Day parade and won second prize. The theme was birth of the State of Israel, with children costumed to depict pioneers and newcomers to Israel" (Jewish Western Bulletin, September 7, 1950, pg. 6).