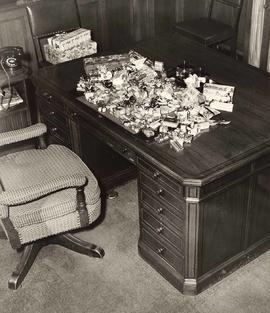 Royal Bank of Canada, Christmas gifts on manager's desk
CA JMABC A.1985.001-1-58-LF.01628
Item
December 24, 1953
Photograph depicts Christmas gifts on the manager's desk at a branch of the Royal Bank of Canada.
Pile of small, gift wrapped Christmas gifts on heavy wood desk; upholstered executive's chair to left of desk; leather visitor's chair with upholstery studs in top right of image.
This photograph is associated with Commonwealth Construction Co. Ltd.