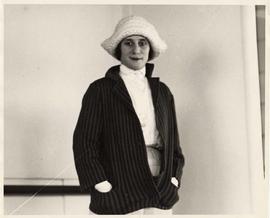 Prima Ballerina Anna Pavlova on board 'Empress of Canada,' Vancouver, British Columbia
Photograph depicts Russian ballerina Mme. Anna Pavlova (12 February 1881 –23 January 1931) aboard the Empress of Canada. She is famous for being the first ballerina to travel around the world to perform ballet for people who had never been exposed to it.
Half body shot of woman wearing knit cap and striped blazer, hands in pockets; standing against white backdrop; black rail partially visible in left of image.